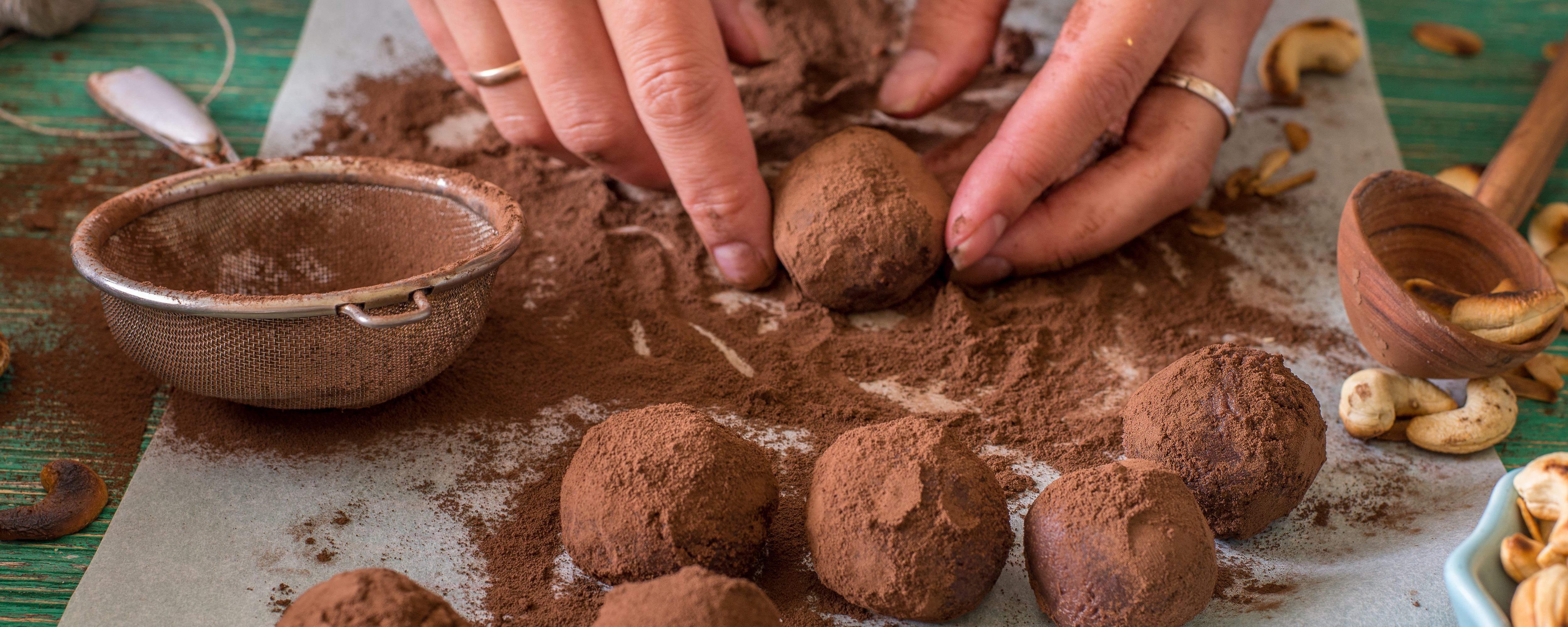 RED WINE TRUFFLES
There's not much out there that's better than chocolate or wine – except for chocolate and wine. You heard us right, this recipe has both! Mixing ultra decadent chocolate truffles with your favorite red wine makes for the ultimate sweet treat.
Ingredients:
16 oz. of semi-sweet bakers chocolate
1 cup of heavy whipping cream
1/3 cup of room temperature red wine (we recommend the Cavit Pinot Noir, Cavit Cabernet Sauvignon or Cavit Red Blend!)
1 tbsp. of unsalted butter, at room temperature and halved
3/4 cup of natural unsweetened cocoa powder
Directions:
Place all chocolate in a large glass or heat-proof bowl. Microwave chocolate 4 times at 15 second intervals. Stir after each interval. Continue stirring until almost completely melted.
Put chocolate aside and pour the cup of heavy cream into a small saucepan over medium heat. Whisk the cream gently until it begins to boil. Once the cream boils, remove it from the heat and pour into the bowl with chocolate. Carefully stir the chocolate and cream mixture in one direction until the texture is completely smooth.
Pour the wine and butter into the chocolate mixture until all ingredients are combined. Cover with plastic wrap pressed on top of mixture. Let sit at room temperature to cool for 30 minutes before placing in the refrigerator for 3 or 4 hours to set. Ganache should be soft and easy to scoop.
Place parchment paper on a baking sheet (or use a silicon mat if you have one!) and pour cocoa powder into a bowl. Set both aside.
Remove bowl with ganache from the refrigerator. With a small spoon, scoop out ganache and roll into a ball. Once ganache is in ball shape, roll it in cocoa powder and place on the baking sheet. Repeat until all ganache is on the sheet! This recipe will yield approximately 60 truffles, depending on how large you roll the balls.
Serve immediately or chill in the refrigerator for a few more hours. (Tip: The chocolate tastes best when it&amprsquos a little cold!)
(Recipe adapted from: Recipe Girl)